Nordstrom leaving Canada, hit by internet sales, tough economy
8 min read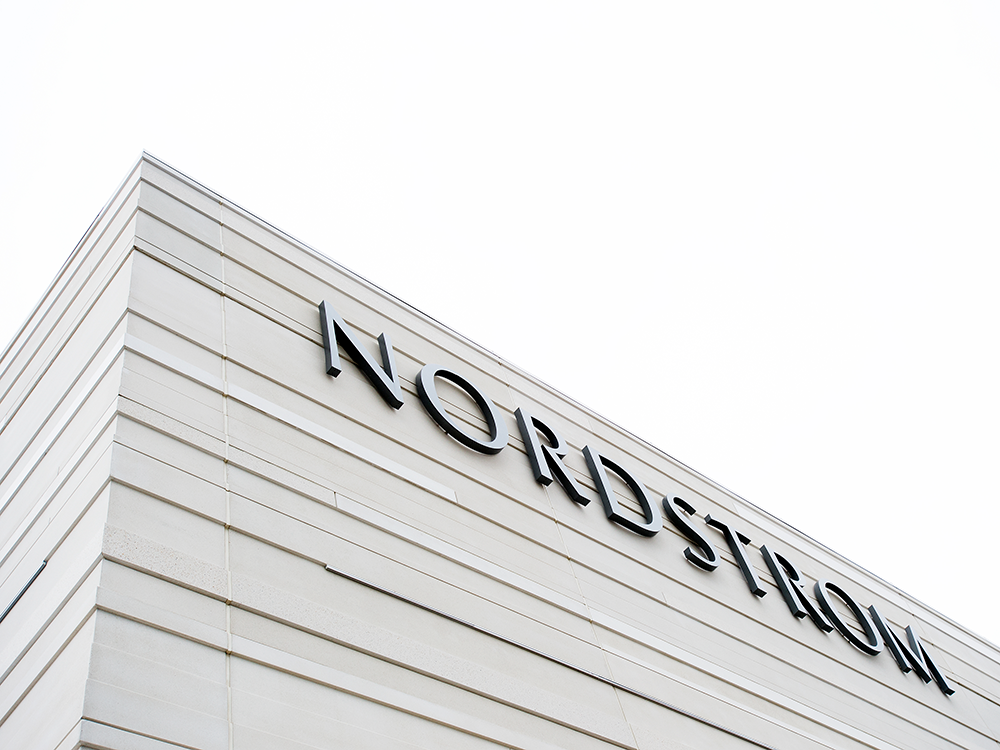 13 Canadian brick-and-mortar stores to close by late June
Article content
Nordstrom Inc. announced on March 2 that it will close the Canadian arm of its upscale department store business due to financial losses after almost a decade in the country, the latest example of a famous retailer struggling to cope with the crosscurrents of a shift to digital shopping, the worst inflation in four decades, higher interest rates, and persistent worries that the global economy is headed for a recession.
Article content
As the story unfolds, here's what you need to know:
Article content
What happened
Nordstrom's routine quarterly earnings report came with good news for its shareholders, and bad news for its Canadian fans: the company boosted its profit outlook for 2023, thanks in part because of the money it predicted it would save by closing its six department stores and seven Nordstrom Rack discount stores in Canada. Some 2,500 employees will lose their jobs.
Canada accounts for less than three per cent of Nordstrom's sales, according to Bloomberg News.
"We regularly review every aspect of our business to make sure that we are set up for success," chief executive Erik Nordstrom said in a statement. "We entered Canada in 2014 with a plan to build and sustain a long-term business there. Despite our best efforts, we do not see a realistic path to profitability for the Canadian business."
Article content
In the quarter which included key shopping holiday weeks, the company's overall sales dropped more than four per cent compared to the same period last year.
The retailer said that although closing its Canadian operations would amount to a net loss of US$400 million in total sales in 2023, earnings before interest and tax would increase by US$35 million.
It said it expects to close the 13 Canadian brick-and-mortar stores by late June. The company already has taken the e-commerce website offline. Customers will no longer be able to buy products online and Nordstrom will continue in-store returns and exchanges until March 17, after which all sales will be deemed final, according to the webpage on Nordstrom.ca.
Those who placed orders online before March 2 will still receive them, but tracking information will no longer be provided.
Article content
Nordstrom credit cards will also be discontinued.
Blame the internet
Nordstrom's decision to retreat from Canada is the latest example of a legacy retailer struggling to find its place in the digital age. Technology and the rise of e-commerce continue to disrupt the broad retail sector, along with shifting consumer behaviour.
E-commerce now represents about seven per cent of total retail sales in Canada, compared with barely two per cent in 2016, when Statistics Canada started keeping track of online sales by retailers with physical locations.
The department store business model was "very strong" a few decades ago, but as people grow more accustomed to online shopping, wandering through all-purpose stores has become "increasingly less compelling," said Simeon Siegel, an analyst at BMO Capital Markets.
Article content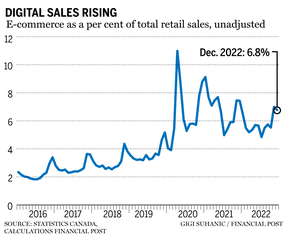 "Historically, a department store was based on convenience and curation. The problem is there's nothing more convenient than (shopping) online in your own living room," Siegel said.
That's forced companies to focus on the curation aspect of the products they sell while also trying to solve the issue of what a profitable department store looks like in the digital age, Siegel added.
"As the businesses, in general, focus on figuring out how large they should be, ancillary businesses and ancillary regions are coming very much under the microscope," he said. "If the core part of your business is more challenging, stemming the bleed from ancillary pieces of the business becomes an easier decision to make."
Economic factors
Article content
The COVID-19 pandemic compounded the headwinds and disruption retailers faced and the current economic environment has worsened prospects, said David Soberman, a marketing professor at the University of Toronto.
"The retail environment for clothing retailers … is tough in Canada right now," he said.
In the two most recent quarters, Nordstrom's revenue was below pre-COVID levels. The company said that diminished consumer spending, because of high inflation and interest rates, was hitting the top line.
Inflation is slowing in Canada, but prices still are rising faster the incomes. Canadians are still shopping, exemplified by an increase in retail trade in December and an estimated boost in January, but the sectors that drove that growth were auto and parts dealers and general merchandise stores.
Article content
"Consumer spending is still happening, and so therefore, I think it's the department stores' jobs to ensure they have the best version of the products for their unique (customers)," Siegel said. "Recognizing that those (customers) are feeling consumer pressure does not negate the fact that they still need to buy apparel."
Nordstrom's footprint was too small
With 13 stores, concentrated mostly in or near Canada's urban centres, Nordstrom probably lacked a large enough presence to be top of mind when shoppers sat down at their computers to browse for goods, said Soberman.
Consider a person in a small town who might want to purchase a product from Amazon. If that person isn't satisfied, they might consider checking out Walmart or Canadian Tire simply because there are hundreds of those stores in the country. "The reason that they got those secondary visits is because those brands are in the mind of Canadian consumers."
Article content
Further, fewer brick-and-mortar locations tend to suggest a company's e-commerce capabilities are less robust than the Amazons of the world, and inventory is more limited, he said.
As well, Canada's population is about 10 times smaller than the United States, a headwind for companies used to taking advantage of market size.
"Nordstrom needs to figure out where they are best positioned to try and capitalize and to try and avoid all the challenges that exist for department store retailing today," Siegel said.
Nordstrom's landlords are out of luck
For mall operators such as Cadillac Fairview Corp. Ltd., Ivanhoé Cambridge, and Oxford Properties, Nordstrom's departure will result in lost lease payments and vacant space. In the Toronto region alone, the Canadian division occupies six storefronts. Calgary and Ottawa are home to two locations with Edmonton and British Columbia's Langley and Vancouver housing one outlet each.
Article content
"Whether or not there's another retailer out there in the U.S., another retailer could come in from Europe or perhaps even Asia," said Ray Wong of Altus Group. "We'll have to see whether or not another retailer sees this opportunity to branch out to Canada."
The opportunity, however, will come at a cost in a market where success cannot be assured.
'Inappropriate': Indigo refuses to pay ransom in cyberattack possibly linked to Russians

'Holding ourselves accountable': Tim Hortons' parent RBI to start releasing earnings per restaurant

Loblaw beats profit expectations, even though No Name price freeze hit bottom line
"To be able to get it ready for the next tenant, it could cost anywhere from $80 to $100 per square foot for new cladding, HVAC, and electrical separation of walls," Wong said. "It can get a little bit more expensive especially if you need to reconfigure the mall itself to accommodate the circulation of customers — it can cost anywhere from $80 to $120 per square foot to get it ready for other types of uses."
If renovation impacts the corridor of the mall, the cost can increase to $300 per square foot.
"These are not small numbers especially with the size of Nordstrom," Wong said.
• Email: [email protected]
• Email: [email protected] | Twitter: biancabharti