CBS Sports Golazo Network launches: How to watch Morning Footy, Box 2 Box and live games; programming schedule
3 min read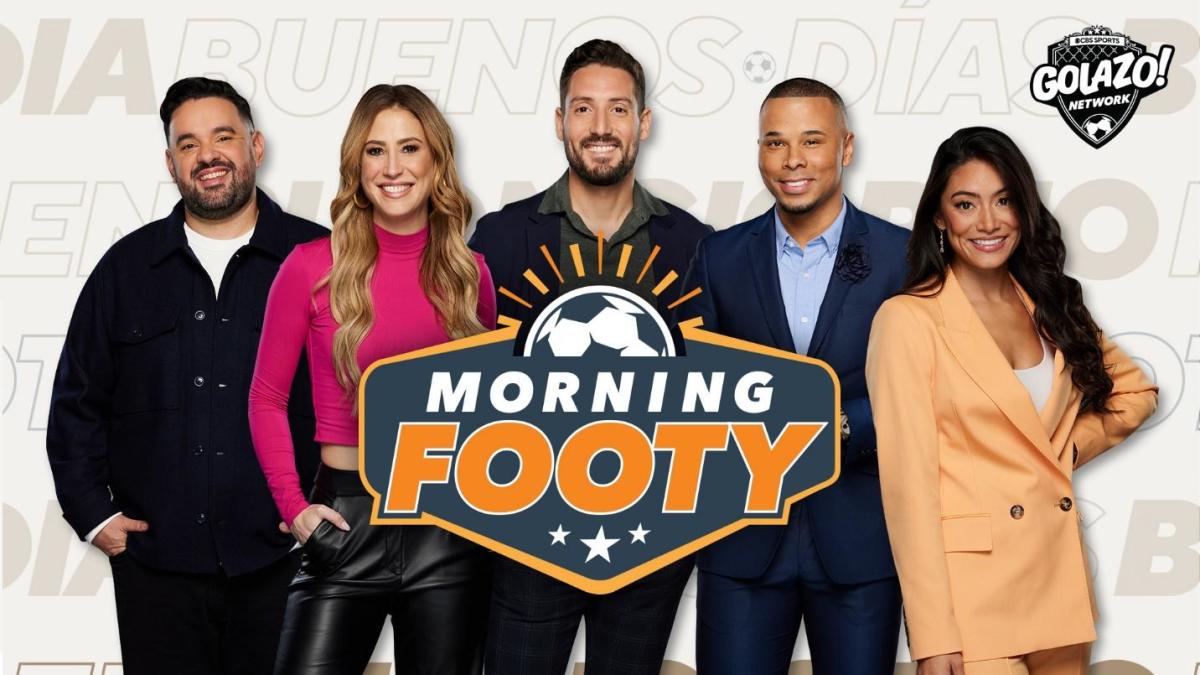 CBS Sports Golazo Network, a first-of-its-kind free, 24-hour digital soccer network, officially launches on Tuesday, April 11. Highlighted by live morning and afternoon weekday shows, exclusive matches and more, things get underway across CBS Sports platforms, Paramount+ and Pluto TV as we bring you everything you need to know about the world's most popular sport. 
That includes a tactical cam for UEFA Champions League matches this week between Manchester City and Bayern Munich on Tuesday and Real Madrid vs. Chelsea on Wednesday, plus tons of original programming and more.
Please check the opt-in box to acknowledge that you would like to subscribe.
Thanks for signing up!

Keep an eye on your inbox.

Sorry!

There was an error processing your subscription.

The network will feature exclusive UEFA Champions League coverage, including 12 live matches from various competitions in the first two weeks of programming.
Here's what to know:
How to watch
When the network launches on Tuesday, you can find it across a host of CBS and Paramount+ properties, including your Paramount+ subscription, the free streaming Pluto TV, the CBS Sports app and more. You can just bookmark this link, and go there for live coverage.
Morning Footy
Soccer fans everywhere will get the chance to start their mornings with the network's flagship show from 7 a.m. to 9 a.m. ET. Morning Footy show will have you covered with highlights, interviews, storylines, viral moments and much more with Susannah Collins, Charlie Davies, Nico Cantor, Alexis Guerreros and Jenny Chiu.
Box 2 Box
Box 2 Box airs live on weekdays from 1 to 2 p.m. ET with host Poppy Miller and analysts Ian Paul Joy and Aaron West. The news-driven show will update fans on everything they need to know about the beautiful game as it quickly covers all the latest news and key headlines with reports from around the world. Contributors to Box 2 Box as well as Morning Footy and the entire Network include Guillem Balagué, Anita Jones, Felipe Cárdenas and Jimmy Conrad.
Live matches
Live match broadcasts will start coming your way on Day 1 with a total of 12 live matches across the first two weeks of programming, including from UEFA Europa League, Serie A, NWSL, Campeonato Brasileiro Série A, Scottish Professional Football League and Argentina Liga Profesional de Fútbol. Additionally, the network will offer a live second-screen tactical cam for the biggest UEFA Champions League and Serie A matches across the first two weeks. 
All times U.S./Eastern.
Tuesday, April 11
Tactical cam: Manchester City vs. Bayern Munich, 3 p.m.
Wednesday, April 12
Tactical cam: Real Madrid vs. Chelsea, 3 p.m.
Thursday, April 13
Feyenoord vs. AS Roma, 12:45 p.m.
Bayer Leverkusen vs. Union Saint-Gilloise, 3 p.m.
Saturday, April 15
Napoli vs. Hellas Verona, 12 p.m.
Brasileirão Match of the Week, 3 p.m.
North Carolina Courage vs. Washington Spirit, 7 p.m.
Sunday, April 16
Sassuolo vs. Juventus, 12 p.m.
Tuesday, April 18
Tactical cam: Chelsea vs. Real Madrid, 3 p.m.
Wednesday, April 19
Tactical cam: Bayern Munich vs. Manchester City, 3 p.m.
Thursday, April 20
AZ Alkmaar vs. Anderlecht, 12:45 p.m.
West Ham vs. Gent, 3 p.m.
Friday, April 21
Argentina LPF Match of the Week, 7 p.m.
Saturday, April 22
Heart of Midlothian vs. Ross County, 7:30 a.m.
Brasileirão Match of the Week, 5:30 p.m.
Sunday, April 23
Milan vs. Lecce, 12 p.m.
Tactical cam: Juventus vs. Napoli, 2:45 p.m.
And remember, all of your soccer needs aside from the network — from NWSL to Champions League to Serie A and so much more — you can try one month free of  Paramount+ by using the code: NWSL2023.